Hackathons, CTF, contests… and poker: EPITA students are reaping awards!
In the past few weeks, EPITA's future engineers have shone on the national and international scene at numerous competitions and challenges! From cyber security and Green IT, to synthetic biology and poker, let's take a look at our students' many achievements!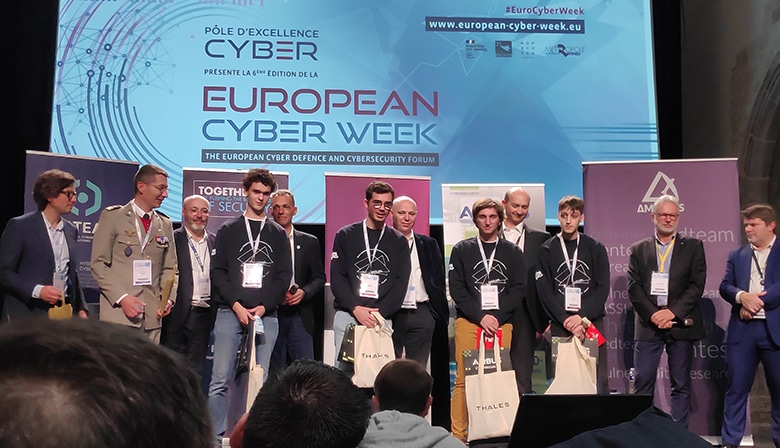 The HDFR team with EPITA students from Paris and Rennes
CaptureTheFlag: the HDFR team claims its spot on the European Cyber Week podium
Since its creation in 2020 at EPITA Rennes, the HackDrinkFlagRepeat (HDFR) team has been performing well at CaptureTheFlag events (CTF). Its members Aloïs Colleaux-Le Chêne (class of 2025), Alexandre Cornet (class of 2026), Antoine Jouan (class of 2023) and Giovanni Le Bail (class of 2025), showed a great deal of motivation and decided to take up the challenge proposed on November 17 during European Cyber Week 2021. The goal? To thwart a large-scale cyber-attack affecting the world's largest pharmaceutical companies! A challenge that the team took on wholeheartedly, obtaining 3rd place on the podium!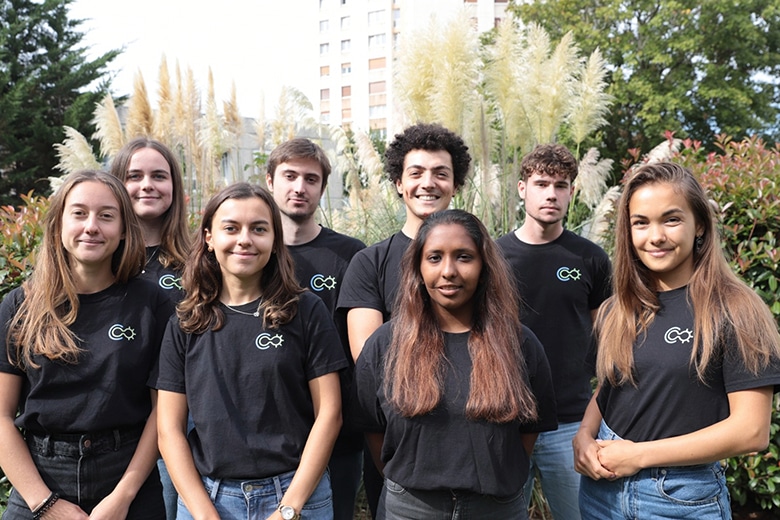 Part of the iGEM IONIS 2021 team
iGEM IONIS: two EPITA gold medalists!
The largest student competition in the world dedicated to synthetic biology with participants from countries worldwide, the International Genetically Engineered Machine competition (iGEM) finished its 2021 edition on November 14 with its traditional grand finale. Benjamin Decreusefond and Morgan Vaterkowski (class of 2022) who are members of the iGEM IONIS team, comprised of ten students from the IONIS Education Group's engineering schools, Sup'Biotech, EPITA and ESME were awarded a gold medal and a nomination for the "Best Diagnostics Project" category for their participation in the innovative project Cobatect, a cobalamin level detection kit!

Design4Green 2021, four successful EPITA apprentices!
Design4Green: new XXL performance by EPITA!
"Become the leading Green developer in 48 hours non-stop": this is the principle behind the international Design4Green challenge.  With a focus on digital eco-design and Green IT, this competition regularly allows EPITA to reveal its prowess, as in 2017, 2018 and 2020. And at the end of its new edition, organized worldwide from November 17 to 19, 2021, the "DesAnes4Green" team, led by four apprentices from the class of 2022 Expert and Engineering Cycles, won second place in the overall ranking! Congratulations to Loïc Bazin (Engineering Cycle), Hugo Durieu (Engineering Cycle), Gaetan Metzger(Engineering Cycle), Ewann Pellé (Expert Cycle) and Arthur Saint-Denis (Engineering Cycle)!

Denis, a brilliant computer science student!
An EPITA student named second best computer science student in France!
Organized by EditX for the 3rd consecutive year with the support of AXA, the "Meilleur.e Étudiant.e en informatique de France 2021" (Best Computer Science Student in France 2021) competition aimed, as its name indicates, to challenge and reward the cream of the crop of future computer science professionals! After a first phase, which attracts an average of 1,000 computer science students each year. After an initial selection stage from September 20 to November 7, of which only 702 out of nearly 1,000 participants succeeded in the online challenge, the 31 finalists met on November 18 to take a final intensive quiz covering the major IT themes. Not only is EPITA proud of being the most highly represented school in the final with its five representatives, but it is also extremely pleased with the excellent second place award obtained by Denis Lusson (class of 2022)! Kudos to Adam Alani (class of 2025), Clément Leconte (class of 2022), Baptiste Raabe (class of 2022) and  Réda Sahrane (class of 2022) for their excellent performance!

Benjamin and Alexis boasted winning hands at the Campus League tournament
Campus League x Winamax: the EPIT'AS association All-in!
"A student who is top of the class, a round won as a team, excellent individual and school rankings": as the Winamax website says,  EPITA Paris "won everything in the 1-3 Stadium" on November 22nd in the Campus League, the biggest student poker competition in France. An excellent performance made possible by the unfailing support provided by the EPIT'AS student association to its members, such as Benjamin Goré (class of 2022) aka Elkao, the tournament winner, and Alexis Pinson (class of 2026) aka 87suitedwin, who made it to the last table. "When only 3 players were left, I was dealt an excellent hand that doubled my chip count.  I found myself back in the game, fighting to win this tournament," says the winner. 15 hands later, I had the best poker hand ever: a pair of aces that allowed me to eliminate one of the two remaining players. And a few hands after that, I again ended up with a pair of aces.  I have to say that this is the first time that I have had two pairs of aces in the same tournament. After my opponent's all-in, I won the tournament and exploded with joy in my room at 1:35 am, joined by EPIT'AS on Discord!"