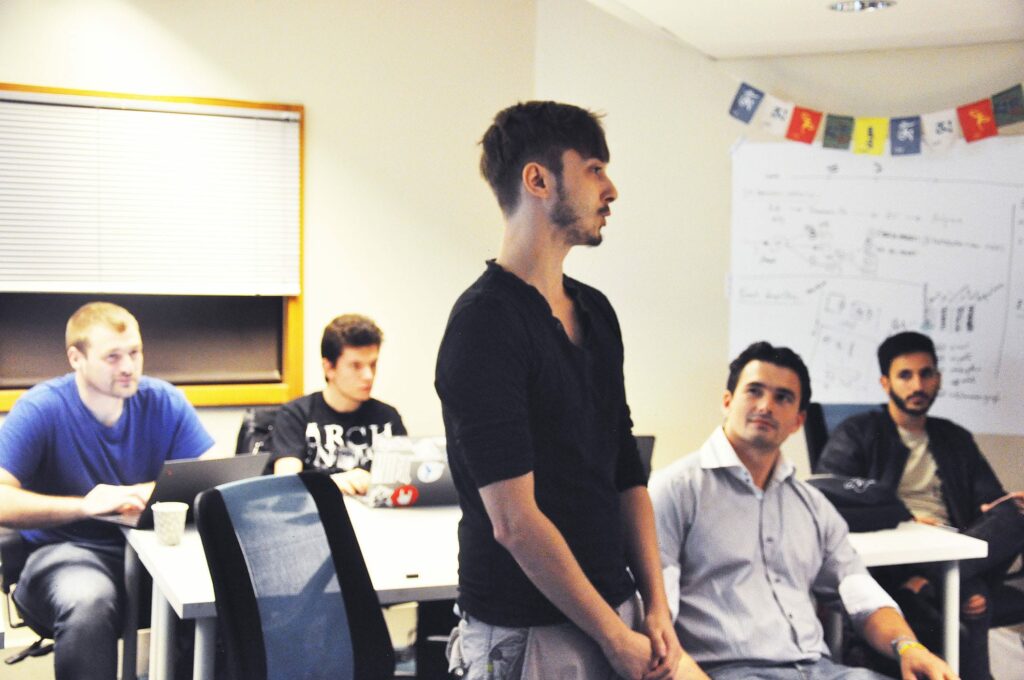 EPITA StartUp Lab, a new entrepreneurial initiative for students
The Startup Lab allows students interested in entrepreneurship to acquire the necessary skills to successfully launch a tech start-up. For one year, with the help of the technical and human resources of the school, students will create their own project, from the initial idea of the issue to be addressed, to the commercialization of the product.
The Startup Lab's educational approach is resolutely action-oriented. Selected at the beginning of the fourth year, students have one year to develop a robust project based on personal ideas or opportunities selected by the Startup Lab. They will go through all the different phases of creating a start-up and will benefit from weekly coaching, specialized master classes and regular exchanges with French Tech entrepreneurs. To carry out their project, students can also rely on the help of the school's laboratories and more than 10,000 alumni, including renowned entrepreneurs. The goal is to create a company that will allow them to be paid as interns (end-of-study internship) after EPITA.
The objective of the Startup Lab is to create entrepreneurial engineers
The students of the EPITA school of Computer Intelligence can join the Startup Lab from the 4th year to realize their end-of-study project. Faced with a large number of applications, the Startup Lab makes a rigorous selection based on the students' personality and motivation, rather than on the relevance of their idea (80% of students apply without a project idea).
Once selected, students identify business sectors of interest and begin to explore market opportunities proposed by the Startup Lab, examples of successful start-ups in other countries or emerging technologies that are not yet widely used.
Focus on Lokimo
Selected for the Startup Lab without an idea, Martin and Binta (class of 2020) wanted to develop an entrepreneurial project in connection with their Data Science and Artificial Intelligence (SCIA) major. In the batch of opportunities offered by the Startup Lab, they started to dig into the real estate field and discovered that few decisions are made using data, even though data is abundant. The two students went on to develop Lokimo, which they continue to grow today.

For 12 months, students work in teams to develop an MVP*, validate their market and attract the first users. At each stage, in addition to their technical expertise, students acquire marketing, product management, communication, sales and business skills, all of which are essential to the success of a start-up.
Additionally, students meet each week with a French Tech entrepreneur who shares his or her experience but also challenges them on a specific start-up topic, such as product development, digital marketing, customer acquisition, recruitment, fundraising, etc.
Joining the Startup Lab brings the guarantee of creating a start-up that will have an impact in terms of value creation and jobs.
*MVP (Minimum Viable Product) : the most basic version of a product that allows to validate through use that the proposed solution truly solves a user problem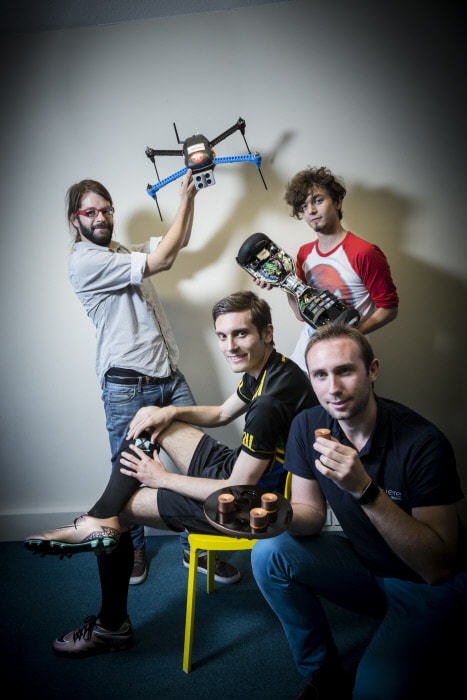 The Startup Lab seasons
Discover the many successful projects from each season
 The EPITA StartUp Lab in numbers
55 start-ups created, 6 of which have led to buyouts
54.3 million euros raised from private investors
Nearly 500 jobs created
EPITA Class 2020
Lokimo – Leverage the power of real estate data
Lokimo allows you to apply the latest Artificial Intelligence and Big Data technologies to real estate data processing
Crowlingo (ex Neutral News) – Multilingual NLP with no translations
Crowlingo provides an API-based natural language processing service for finding information and relationships in text, in over 100 different languages.
eKee – Building the digital identity of tomorrow
eKee simplifies the collection and update of data between any type of organization and individuals, while protecting privacy and respecting the RGPD.
The 6th season of the incubator hosted 7 start-ups that were able to take advantage of the premises, mentors and support of the EPITA engineering school in computer intelligence, in order to launch their project confidently in a booming ecosystem.
Ad Scientiam: Mobile health
Specializing in medical research associated with smartphones and connected objects, Ad Scientiam is a start-up founded in 2013 and led by Liouma Tokitsu (EPITA class 2001)..
Blackfoot: exploration of industrial areas
Led by four Epitech students -Pierre-Marie Laguet (class of 2016), Arthur Davoine (class of 2017), Maxime Bourgeois (class of 2016) and Kevin Lederman (class of 2017), Blackfoot specializes in automating fleets of drones for the survey and inspection of industrial areas.
BodyWHAT: in touch with athletes
Thanks to a photo analysis of the user's body, BodyWHAT offers a nutrition and fitness coaching program adapted to the user's morphology.
Lumiere: sublimating oils
Through a new generation of product-friendly, low-maintenance essential oil diffusers offering a personalized experience, Lumiere is revolutionizing home comfort.
Cavacave: business unbridled
Winner of the 2013 "Concours Régional de la Création d'Entreprise Île-de-France", Cavacave is a high-end auction house that helps wine professionals expand their catalog of great wines through access to hundreds of private cellars.
ProcessOut: The right payment
The three students behind ProcessOut are Louis-Paul Dareau, Manuel Huez (EPITA class of 2018) and Cyril Chemla (EPITA 2018). With this service, the three EPITéens bring into a unique online tool the management of the local and international payment methods offered on e-commerce sites.
SmartSubs: English language for screen addicts
The web plugin from SmartSubs offers a simple and easy way to learn English by providing a translation adapted to each reader.
For that season, seven new projects were selected. Thanks to the support of the accelerator team and the intervention of numerous mentors, these start-ups have gone from ideas to projects capable of proposing or improving a marketable product, service or application.
Here is a video review of this 5th edition, with two projects that have been pushed over the last four months: Defab and Pistache.
https://youtube.com/watch?v=Hi7479bDU8A%3Fenablejsapi%3D1%26origin%3Dhttps%253A%252F%252Fwww.epita.fr
During this 4th season, the digital start-up accelerator team, supported by the EPITA engineering school of computer intelligence, accompanied 7 new entities for four months so that they would be able to offer a marketable product, service or application. Among the members of the teams selected, there was one former and two current EPITA students.
Discover the video of the PrototypeFiesta – concluding this 4th edition.
Jamseek: developed by Pierre-Emmanuel Altieri (EPITA class of 2015) and Clément Casu (EPITA class of 2015), this mobile application makes it possible to find musicians based on their location, the instruments they play and the styles they like. What if the next greatest band was formed thanks to Jamseek?
InnovOrder: developed by Vincent Oliveira (EPITA class of 2013) together with Romain Melloul (ESME Sudria class of 2014) and Jérôme Varnier, InnovOrder is a customizable solution to improve the profitability of restaurant owners. It offers customers the possibility to instantly take their order from a smartphone, a website or a touch terminal. Users can view photos of dishes and interact with other customers through comments.
OptiMiam: stop wasting! The consumer society being what it is, small or large retailers are sometimes forced to get rid of many unsold products as soon as their use-by date has passed. By connecting consumers to a marketplace where retailers can offer immediate promotions on products that are nearing end of life, OptiMiam hopes to avoid this. A gesture for the environment… and for the wallet.
FilmYourTeam: because tomorrow, you or one of your friends could be a star, FilmYourTeam gives you the opportunity to film and edit your amateur sports matches. Not a bad way to show off during the week after a weekend performance.
Swiper: Swiper's credo is to display contextual ads on smartphones with the particularity of highlighting discounts or couponing on the targeted customer's screen saver
Shotgun: in life, you always have to be on the lookout for good deals. The Shotgun application understands this and sends limited-time promotional offers to the right person at the right time. The first to arrive is the first to be served. On your marks, get set, buy!
Shyft: by allowing you to send your messages and photos in the future (three days, one month, one year or one day at random), the Shyft application promotes the sharing of emotions, fun, tender or funny moments by playing on the surprise effect felt by the receiver.
For the V0.3 season, eight high-tech projects were selected from over 60 applications. These start-ups benefited from the premises, mentors and speakers, but also from the wealth of experience of the accelerator team.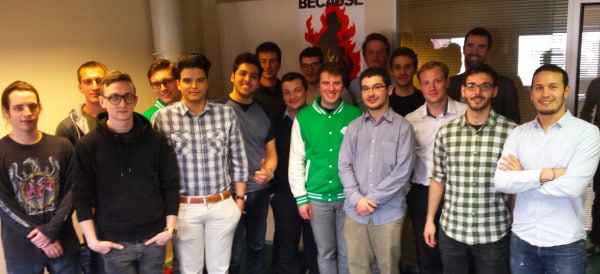 Discover the video of the PrototypeFiesta – concluding this 3rd edition.
No doubt you will hear about:
Footbar, which takes amateur soccer players from anonymous Sunday afternoon players to stars by providing them with a free web and mobile platform that showcases their statistics.
Pretty Streets, an app that suggests an optimal route for strolling around town based on your mood and available time.
Pulpix, an innovative solution to transform any YouTube, Dailymotion and Vimeo video into an enriched experience: interactive bonuses including photos, text and links appear in real time in the video.
Betarigs, a cloud-based crypto-currency mining platform. It allows beginners to mine easily, experts to mine large amounts of power, and mining machine owners to rent them at a good rate.
Tiller, a mobile cash register solution for bars and restaurants worldwide.
Soundsgoood, a free music recommendation service based on users' preferences. Dive into the world of music conductors, sports coaches, DJ's and other enthusiasts who create playlists to put music into your daily life.
Mapstr, an application that allows you to instantly scan an address seen in a magazine or on the Internet, organize it by keyword (tag), and find it on an interactive map
Protetic Designer, an innovative and ergonomic software for dental technicians. It assists dentists and prosthetists in their work of creating and fitting dentures: it facilitates and improves their communication, provides a wide choice of teeth and offers patients a realistic preview of the fitting of the teeth using 3D modeling of their faces.
During the second incubation session, seven projects were selected.

Discover the video of the PrototypeFiesta – concluding this 2nd edition.
Arise.io is a tool for application developers who want to evaluate the effectiveness of different versions of their programs. Based on comparative A/B tests, it allows you to easily evaluate the differences.
Captain Contrat is a cost-effective solution for creating attorney-approved legal documents.
MassiveRand develops a random encryption generator to secure any type of online transaction.
Untold Universe is a massively multiplayer video game where each participant has the possibility to act and build what he wants.
Worldcraze is an international crowd-shopping system: a private individual traveling abroad will be able to bring back, for a small commission, products to third parties.
Xiko is a multilingual agency that analyzes the content of various online public conversations. Its services are intended for companies wishing to have an effective international watch.
During the first session, six companies were selected.
Discover the video of the PrototypeFiesta – concluding this 1st edition.