#medicalimaging #satelliteimaging #augmentedreality #videogames #computervision #AI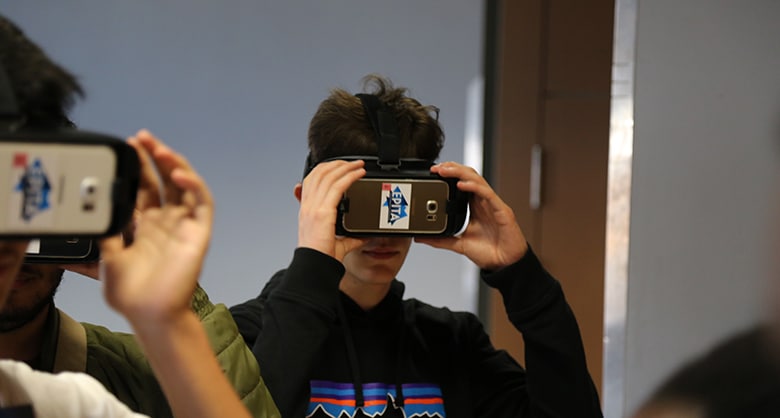 By liberating the user experience from spatial, temporal and security constraints, Virtual Reality and Augmented Reality bring a new way of representing objects in a real or non-real space. Immersive Experience, Productivity, Emotional Marketing, Training, Virtual Tour, Collaboration, Design, Prototyping, Maintenance, Remote Intervention, the uses are numerous and the challenge for the future engineers of the SCIA, IMAGE and MTI majors will be to integrate these approaches into a complete production cycle..
En vrai, Virtual and Augmented Reality deciphered by EPITA
Training
EPITA offers various specializations to train experts in image processing, virtual reality and augmented reality.
Engineering Master's Degree – Specialization Major "Multimédia et Technologies de l'Information" (MTI)
Engineering Master's Degree – Specialization Major "IMAGE"
Example of students' projects and successes
2019 Final year projects
"Poster AR" and "Hue AR", an "augmented" kakemono and a lamp controlled via an augmented reality interface.
"SpotQuiz", a gamification application to try to find the brand of a commercial that has been shown on TV.
2019 Enterprise final year project
"Safety View", the application of augmented reality to help company operators enhance process safety, in partnership with the company Veolia.
2018 Final year projects
"DriveSafe", a simulation in video game format, designed to make drivers aware of the dangers of alcohol and phone use while driving.
"Plugboard", a web platform to simulate combinatorial logic to facilitate its learning.
"Urban chatbot", integrating the main and most user-friendly features of Facebook messaging.
A "Virtual and Augmented Reality" innovation team
EPITA recognized in the field of image and multimedia
Our other
fields of expertise
ARTIFICIAL INTELLIGENCE, MACHINE LEARNING AND BIG DATA
FINTECH & BLOCKCHAIN
IoT & ROBOTICS