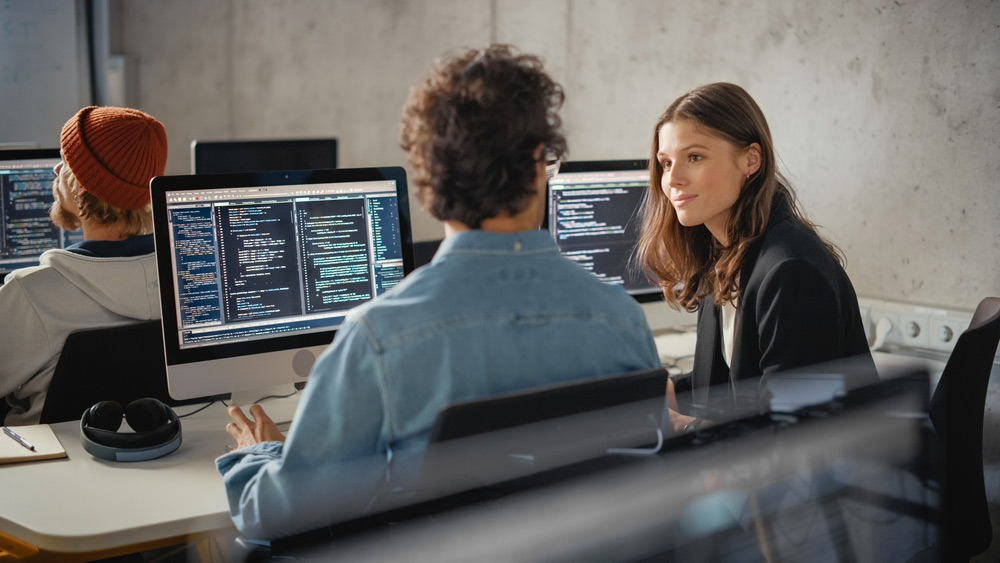 The world of IT is not without danger: not a day goes by without hacking, scams, data theft, espionage, identity theft and targeted attacks.
In this digital jungle, future cybersecurity professionals must be able to design and master state-of-the-art tools but also manage human, legal and behavioral factors.
#security #cyberattacks #whitehackers #malwares
En vrai, cybersecurity and cyber defense
deciphered by EPITA
Training

Whether it is an engineering diploma, an apprenticeship, a Bachelor's degree, a Master of Science or a continuous education program, EPITA offers a variety of courses to train the experts of the future.
Engineering Master's Degree – Specialization major Systems, Network & security (SRS)
Engineering Master's Degree under apprenticeship – Cycle Cybersecurity and Systems (CS)
Bachelor's Degree in Digital Security
Master of Science in Computer Science (CS) – Computer Security Specialization
EPITA's  SecureSphere continuous professional training center, offering a « Diplôme d'Université Mise en Œuvre de la Sécurité Numérique » (DU) in partnership with UTT, short courses and customized training.
Example of students' projects and successes
Design and organization of the Forensic Challenge by students of the SRS major for the International Cybersecurity Forum (FIC). Digital surveys to be renewed every year.
Participation of students from the SRS major in DEFNET, a full-scale cyber defense exercise organized by the Ministry of Defense. Looking back at the 2019 edition in video.
Drafting of the White Paper "Cybersecurity and Innovation" in partnership with the "Assises de la sécurité", distributed every year during the evening of the Circle. 5G, incident detection and response, Threat intelligence … overview of the 2nd edition 2019 approved by the IT Social media.
A research team in "Cybersecurity" and another in Systems.
Founding member of the Cyber Campus, a pillar for the initial and continuous training.
Partner of the French Ministry of the Armed Forces, the Cyber Defense Command (COMCYBER), the National Guard, the French Navy, the "Assises de la Sécurité", the International Cyber security Forum (FIC), and the "Club des experts de la sécurité de l'information et du numérique" (CESIN).
EPITA recognized in the field of cybersecurity
Our other
fields of expertise
ARTIFICIAL INTELLIGENCE, MACHINE LEARNING AND BIG DATA
FINTECH & BLOCKCHAIN
IoT & ROBOTICS