The 2030 Investment Plan: EPITA students' active role
Announced by the French President on Tuesday, October 12, the 2030 Investment Plan for France aims to define the country's major projects in a number of key sectors of the economy, such as the green industry, biotechnology, health, agriculture and, of course, the digital field. To develop this ambitious plan, the executive branch chose to consult with many different sectors of society beforehand. In addition to economists, business leaders, researchers as well as employer and union representatives, students from a dozen colleges and prestigious universities, including EPITA, were also asked to share their vision of the major issues related to their studies.
As for EPITA, the students involved had to reflect on the future changes and actions required in France as regards cybersecurity, one of the school's specialties. A delegation of EPITA students was invited to the Polytechnique campus in Palaiseau on Friday, October 8, along with students from the Polytechnique and ESPCI, schools, to present their work and thoughts in the presence of Cédric O, Secretary of State for Digital Transition and Electronic Communications.  Julien Loctaux (EPITA class of 2022), a 5th year SRS major, and Julien Cohen-Scali (EPITA bachelor's class of 2024), a 1st year student studying for a Bachelor's degree in Cybersecurity, were able to share their findings and discuss them directly with Cédric O on stage,  providing input for the executive branch.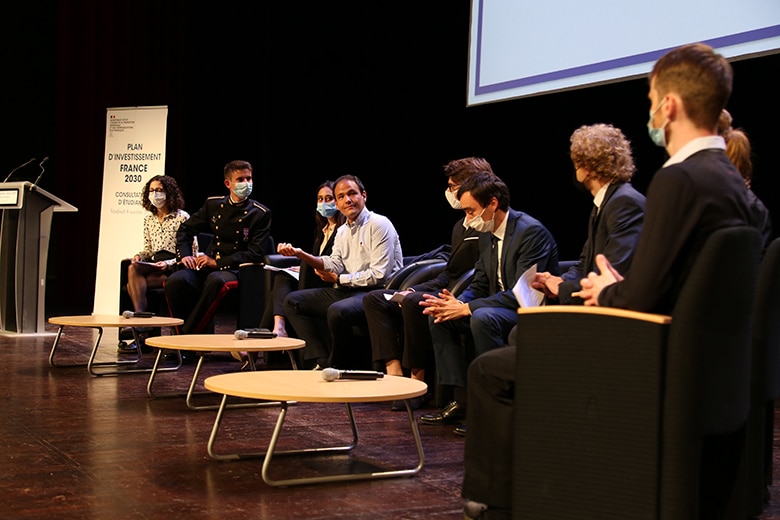 Cédric O surrounded by the students involved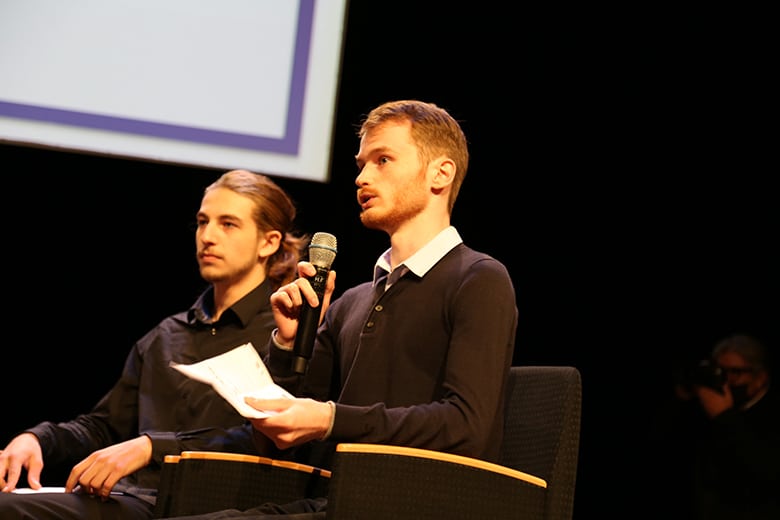 Julien Cohen-Scali on the left and Julien Loctaux on the right
Consultation in view of the 2030 investment plan for France 2030 in the words of Julien Cohen-Scali:
"In addition to presenting our vision from the point of view of the Cybersecurity Bachelor's program in anticipation of this recovery plan, I wanted to emphasize the importance of creating new educational curriculum in the field of cybersecurity and raising awareness on this topic, especially among young people. It was a great opportunity to be able to present our views to someone in the government, who makes major decisions. I feel that this type of exchange should happen more frequently, because as students, it is important to speak about the issues that affect us directly. For me, the most important point to make about cybersecurity is awareness. It is even the most essential element when it comes to this subject.  It is crucial to explain to young people that there are risks that they need to be aware of, so that they can eventually join a dedicated educational program. It all starts with awareness. This is all the more important as cybersecurity does not only affect the IT sector, but all strata of society and the economy. There's a term that sums it up quite well: "global computerization". In fact, within the next ten years, I think that all industrial sectors will be driven by IT. However, global computerization cannot be implemented without computer security. Without it, many sectors will experience huge security breaches, which will impact everyone's life without exception."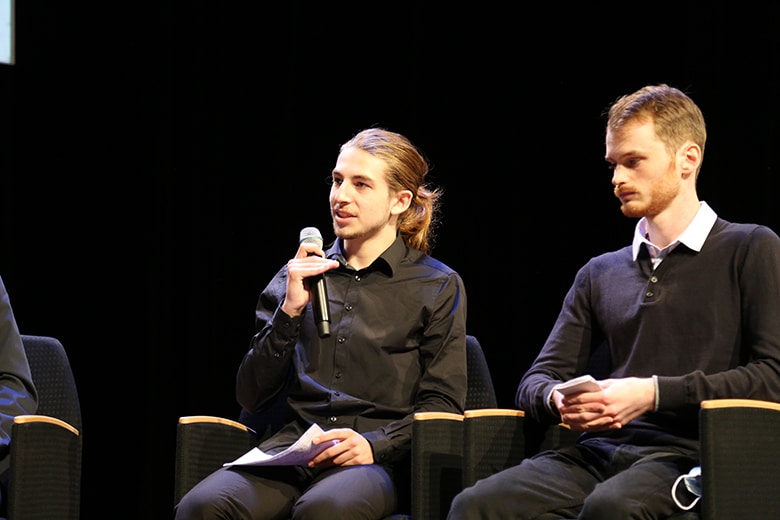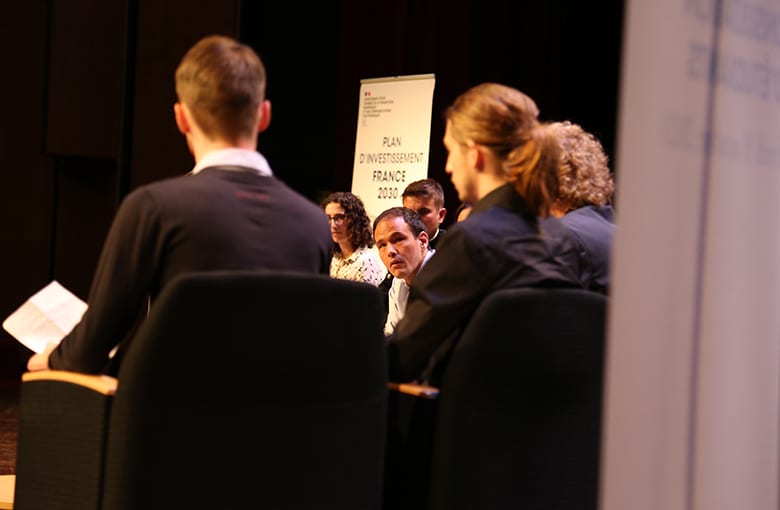 Consultation in view of the 2030 investment plan for France 2030 through the eyes of Julien Loctaux:
"It's not every day that you get the opportunity to speak with a governmental minister on stage, especially regarding a topic that's out of the ordinary – we're not necessarily used to looking at economic issues while studying at EPITA. It definitely forced me out of my comfort zone and taught me new things. Although all the points discussed during this exchange were important, those regarding the climate and environment were particularly emphasized. All the schools involved spoke about these issues, which is not a surprise, as our generation is very concerned about this topic. In terms of cybersecurity, I was also able to talk about digital sovereignty, a rather complicated but essential topic. A good example of this is our health data: as we have an increasing amount of data, we need to find a place to store it. Where should it be stored? On which server? Can our data be stored on servers in France, which belong to foreign companies? This is a crucial and exciting issue. Moreover, cybersecurity gives us the opportunity to look at many different professions and sectors. This is ideal for me, as I am quite curious by nature!"