Held August 16-25, 2022, the first edition of the Blue Rally Ecosse took approximately twenty teams through the Scottish Highlands in vintage cars. EPITA was represented by two 4Ls bearing the colors of the student association Epitrophi. The school's teams included "Les 34 petits chevaux" with Adrien Anton Ludwig and Adèle Pluquet (class of 2023), who were participating in their second Blue Rally, and "Les Blues Brothers" with Tao Blancheton and Victor Simonin (class of 2023), who were participating in their very first rally. An unforgettable and extremely exciting experience that these two 5th year future engineers are happy to tell us about!
When did you begin thinking about taking part in the Blue Rally Ecosse?
Tao: Not too long ago, in fact.  It was in May, after I met Adrien and Adèle, who founded the Epitrophi association at EPITA after participating in the Blue Rally last year. The team that was supposed to go with them to the Blue Rally Ecosse ended up withdrawing, so they asked us if we wanted to take over. We immediately said yes!Victor: It's important to know that Adrien and Adèle are really good friends – we have known them since taking preparatory classes at EPITA Lyon. That's also why we immediately accepted their proposal to take part in this adventure. They know that Tao and I like to travel a lot, both in France and abroad, so this is the kind of project that we love!
As the rally started in August, did you have to rapidly register to participate?
Tao: Yes, we had less than two months to raise the funds needed to finance the registration fees, which we had to hand in before mid-June.
Victor: We worked non-stop! For example, almost every lunchtime for several weeks, we were on the campus terrace selling crepes and trying to raise funds little by little, while also collecting donations. We did the same thing during the Open House Days, selling crepes, beverages, meals, etc. We also launched a crowdfunding campaign in the form of an online pool, into which many friends and family members were able to donate money. And, luckily, we didn't have to look for a sponsor because one came to us!
Tao: In fact, when a friend of my father's heard about the project, she immediately asked her company to sponsor us! We were very lucky to have this support as well as the support of EPITA, which provided us with the car. In addition to this, Victor and I were also able to save money by working as assistant professors at the school, while studying. Just before registration closed, we had a two-week rush as teaching assistants, working 6 days a week from 8am to midnight, which allowed us to finance a large part of the necessary fees.Victor: As for the vehicle, it had just been purchased by the school and had its engine completely rebuilt in 2020. So, there was very little we had to change. The school then gave us carte blanche to fit out the interior and repaint the body.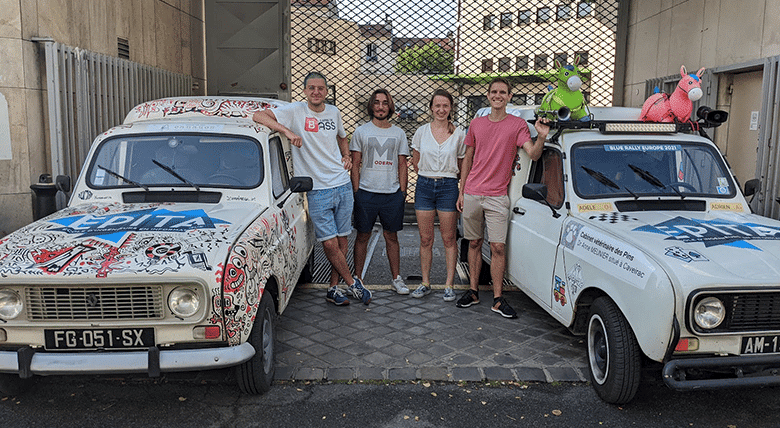 How would you describe the Blue Rally Ecosse?
Victor: It was the first edition, but the organizers thought that it was one of the wildest and most difficult rallies, and better suited to more experienced participants… and they were right! In fact, the route went through some of the most isolated parts of northern Scotland, in predominately uninhabited areas. It was a great adventure in that respect! Moreover, the rally was a wonderful opportunity to meet new, amazing people. As we were quite isolated, with few people around, we were able to really take the time to speak with the other participating teams. We thoroughly enjoyed it!
Tao: Another advantage of this rally is its size. Unlike other rallies, participation is limited to about 50 teams. For this first edition, there were only 23 teams, plus the mechanical and organization crews, totaling less than a hundred people. This allowed us to really get to know everyone, which would probably not have been possible in a rally with several hundred or even several thousand teams.

When we talk about a rally, people often think of a race, but that's not true, is it?
Victor: Definitely not! The goal of a rally like the Blue Rally Ecosse is to make it to the end. That's the main objective, especially since you can't really race when you're driving old vehicles like 4Ls, which often have mechanical problems. However, during the event, there is still a ranking based on several criteria. Points can be earned through contests on Facebook and Instagram, by passing through certain GPS coordinates, by following the route given by the organizers at the start, etc. Regularity and few mechanical breakdowns – without having to call on the rally's assistance – also allow you to rise in the ranking. Tao and I finally finished in third place!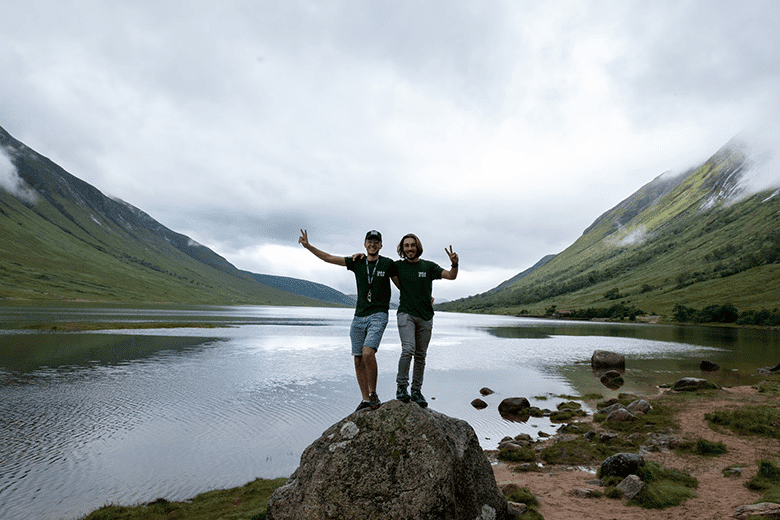 What, in particular, left its mark on you?
Tao: There are far too many events! In fact, the entire rally was memorable… including the first day when Adrien and Adele's car broke down! (laughs) Otherwise, if I had to mention two, I would say the moment when we were on the Isle of Skye, in northern Scotland, where we went on a hike along "The Old Man of Storr" trail. We were very lucky because the sky was clear, giving us an amazing view of the fantastic landscapes. The second was when we went even further north, to the town of Clachtoll, where there are white sandy beaches on the cold sea, with temperatures of 8 or 9°… In the beginning, when we arrived at the beach, it was strange to see everybody wearing a wetsuit, while we were in swimsuits. However, once we got into the water, we understood why! (laughs)
Victor: As for me, it was when we left the main roads to enter the Highlands. I think it was the second day, between Fort William and Newcastle.  We were driving down single-lane roads, surrounded by magnificent landscapes. In fact, the entire rally was mainly comprised of single-lane roads.  It was phenomenal.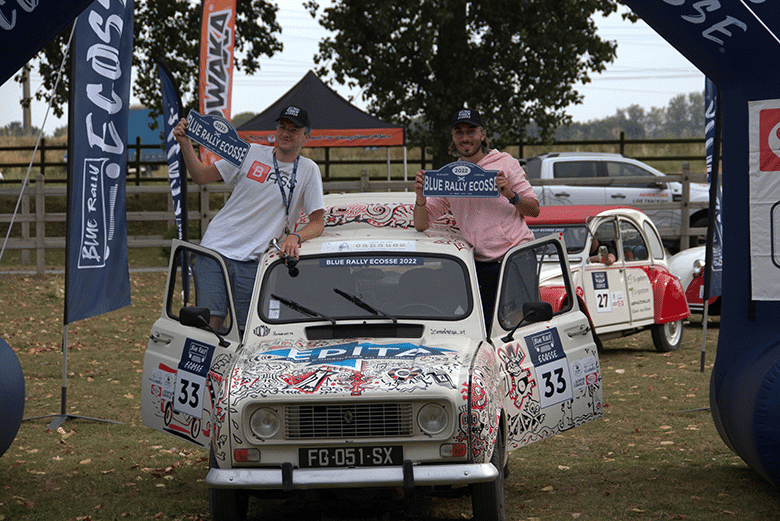 Were you able to connect with the other teams?
Tao: The average age of those participating in this rally was around 30-35, which was not bad. Our team was definitely one of the youngest, together with Adrien and Adele's team and that of two girls from the Corrèze region.  In fact, there were people of all ages participating in the rally, which was great.  We spoke with people our age as well as older people and shared our life experiences. For example, with Victor, we talked quite a bit with Michel and Valerie's team, who were in their sixties.
Victor: There were older couples who were passionate about vintage cars, and younger people, who were there for the experience, etc. There were even families, divided into two or three teams, or others like us, who took part because they enjoy traveling. It was really interesting to discover everyone's motivations and meet people from different backgrounds!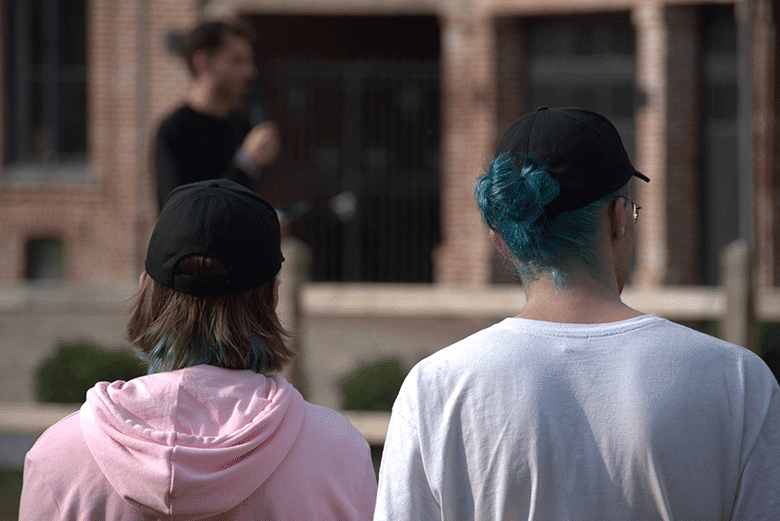 What was the biggest challenge you had to overcome?
Tao: During the rally, we didn't sleep in tents like most of the participants because we had fitted out our 4L van so that we could sleep inside. However, as Victor is quite tall, our mattress was sticking out of the car by 50 cm.  We therefore had to sleep with the back door completely open, with a canvass hung up for shelter. And once, while we were on the Isle of Skye, around 5am, the wind and rain were so strong that a peg from the canvas came off. I woke up drenched in water! I then went out looking for the peg in my shorts and down jacket and saw that everyone was having problems!
Victor: All of the tents were barely standing up, and the car alarms began to go off… We were in the middle of a huge storm! It was quite an ordeal and probably the biggest one we had to overcome because, fortunately, we were very lucky that we had no major mechanical issues during the rally. The engine and the 4L held up well in general. We did have a few small problems with the speedometer, but nothing very serious and nothing that prevented us from driving!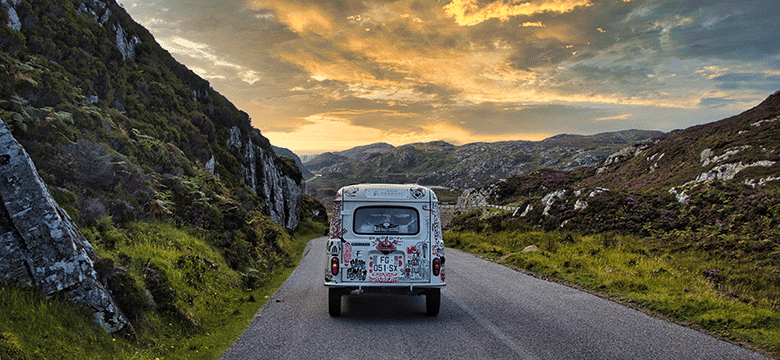 Do you have any advice for those who would also like to participate in a rally?
Tao: First of all, it is important to prepare for the rally as early as possible. Do not set out on this type of adventure only two months before the departure, like we did, even if we managed to do well! (laughs) You have to be motivated and not put things off, telling yourself that you will look for a sponsor later or saying that you will deal with mechanical issues when the time comes, especially if you don't know anything about car mechanics. You have to become familiar with your car beforehand, search the Internet to see how the engine works, learn a few things about the subject, etc. The goal is not necessarily to know how to fix your engine, but at least to understand what the mechanical support team says when they come to assist you during the rally.
Victor: Another piece of advice is to not only be motivated, but to stay motivated! You mustn't be afraid to take the plunge and participate, especially since the Blue Rally organizers are extremely close to the participants, which is very reassuring.
Tao: The Blue Rally is not specially reserved for those who know about mechanics, thanks to its dedicated organizational team. An example of this is the last day, when two 4L engines broke down: Adrien and Adèle's car and another team. The mechanical team had a spare engine, which they were able to use for one of the vehicles, but not for the second car… yet, the mechanics still managed to take care of the problem in a parking lot next to a garage in only three hours!
Victor: The Scottish mechanics were amazed that an engine could be entirely changed so quickly and that everything worked perfectly afterwards!
Tao: The organizational team is comprised of very competent people who truly enjoy a rally and the challenges that come with it!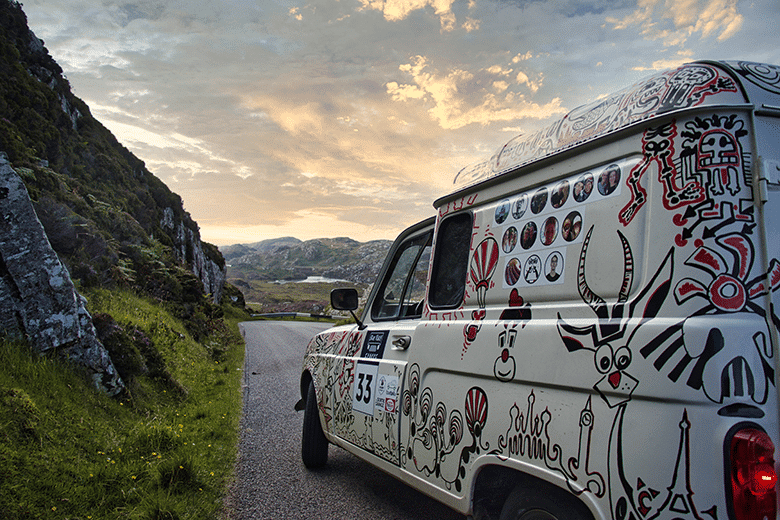 After this first rally, would you be willing to participate in another one?
Victor: We are definitely considering taking part in another rally, the Blue Rally Bardenas, which will be held in November. As it is a shorter rally, we won't have to raise as much money. So, here we are again, planning a rally two months in advance, but we think we will be able to participate (laughs). We had such a great time in Scotland that we definitely want to experience this type of adventure again!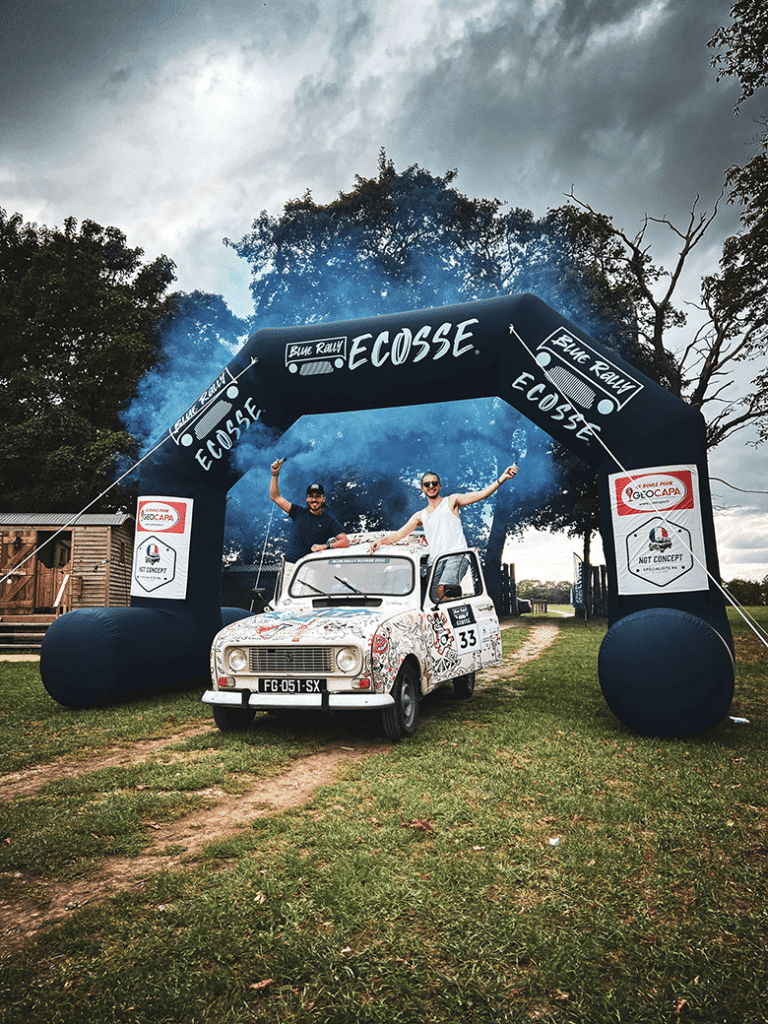 What can we do to support you in this new adventure?
Tao: You can go directly to our Instagram account, called the Blues Brothers where you will find all the useful links needed to support us. You can also contact us directly through the Epitrophi association!